Scale House Operator, Aggregate Sales Administrator
LindbergAndSons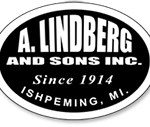 Website A. Lindberg & Sons Inc.
A Lindberg & Sons is seeking qualified applicants for the Scale Operator and Aggregate Sales Administrator position at their County Road 480 gravel quarry. This position is for managing the commercial and retail sales at the area's largest seller of sand and aggregate products, as well as assisting with production crews to ensure its operational efficiency.
Duties
Manage the scale house during operating hours. Includes overseeing the dispatching, loading, and ticketing of all commercial and retail customers, as well as completing all cash sales transactions.
Schedule material deliveries and dispatch trucks
Daily reconciliation of all cash sales
Prepare all necessary data for biweekly charge account invoicing
Complete daily and weekly production and sales reports
Record keeping for crushing and trucking crews
Some light manual labor may be required
Qualifications
Strong communication skills
Computer skills and the ability to quickly learn new programs
Ability to work with construction clientele as well as the general public
Experience working in a retail environment
Ability to multitask and adapt to rapidly changing situations
Construction experience preferred, but not necessary
This is a seasonal position (approx. mid-April through mid-November). Some evening and Saturday hours may be required. Starting pay plus benefits dependent upon experience and qualifications.
Job Type: Full-time