Mechanic/Welder
LindbergAndSons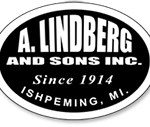 Website A. Lindberg & Sons Inc.
We are looking for a skilled Welder at our shop facilities, quarries, and construction sites. Maintenance of heavy equipment parts and aggregate processing equipment. A welder must be competent in using potentially dangerous equipment following all safety precautions. The ideal candidate will have a steady hand and great attention to detail. Knowledge of different kinds of metal and their properties is essential.
Responsibilities
Read blueprints and drawings and take or read measurements to plan layout and procedures
Determine the appropriate welding equipment or method based on requirements
Set up components for welding according to specifications
Operate angle grinders to prepare the parts that must be welded
Align components using calipers, rulers, etc. and clamp pieces
Weld components using manual or semi-automatic welding equipment in various positions (vertical, horizontal or overhead)
Repair machinery and other components by welding pieces and filling gaps
Test and inspect welded surfaces and structure to discover flaws
Maintain equipment in a condition that does not compromise safety
Skills
Proven experience as welder
Experience using a variety of welding equipment and procedures
Experience in using electrical or manual tools (saws, squares, calipers etc.)
Knowledge of relative safety standards and willingness to use protective clothing (face-shield, gloves etc.)
Attention to detail
Professional Certification (e.g. an AWS welding certificate) will be a plus
Must be a member of respective trade union or willing to join.
Benefits
Our employees will enjoy union benefits from each respective union.
Unions provide excellent wage and benefit packages.
Job Type: Full-time