General Laborer
LindbergAndSons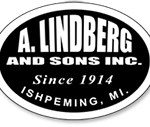 Website A. Lindberg & Sons Inc.
A. Lindberg & Sons Inc. seeks to fill several full-time openings for Laborers in Aggregate Crushing/ Washing Operations, Civil Construction and Earthwork Projects. These open positions are available in the Crushing, Underground Utility, and Roadbuilding Divisions.
Duties and Responsibilities
Ability to meet the physical demands of the job (standing for long periods of time, lifting heavy loads of 40+ pounds etc.)
Monitor crushing and washing operations.
Performs maintenance of gravel crushing, screening plants, and wash plants.
Lubricate, adjust, or repair machinery and replace parts, such as gears, bearings, etc.
Cleans up spilled material around conveyors using shovel and/or skid steer.
Good hand-eye coordination
Familiarity with power tools and machinery is a plus
Communication and teamwork skills
Commitment to safety rules
Work as part of a team and follow directions from the foreman
May assist other craft workers
Other duties as assigned
Qualifications
Valid driver's license
High School Diploma or GED
Industry experience is preferred but not required, willing to train the right person
Ability to pass pre-employment drug screen
Mine Safety Health Administration (MSHA) Training, preferred but not required.
Ability to work long hours performing repetitive movements.
Must be willing to travel and work away from home when required and work long hours, 5-6 days per week.
Must be able and willing to work afternoons and weekends when necessary.
Ability to work in all environmental conditions for 10 or more hours a day.
Mechanical – Knowledge of equipment, machines and tools including their designs, uses, repair, and maintenance.
Welding experience a plus.
Good work ethic, punctual and alert.
Must be a member of respective trade union or willing to join.
Benefits
Our employees will enjoy union benefits from each respective union.
Unions provide excellent wage and benefit packages.
Job security working on essential infrastructure projects.
Job Type: Full-time